by Dave Jamieson
Reposted from the Huffington Post and Portside
March 3, 2014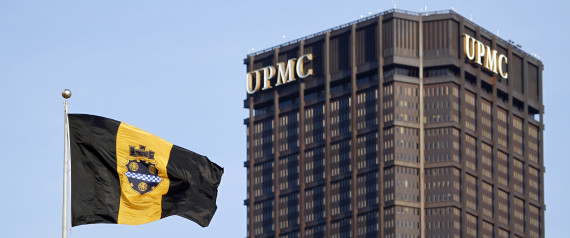 [Editorial Note: This article by Dave Jamieson and accompanying image by  Justin K. Aller ( Getty Images) have a special resonance for me. In 1970 when the US Steel Tower was still the headquarters of the giant steel corporation, I was arrested at a demonstration outside the Western Psychiatric Institute in support of a union organizing drive by Local 1199 of the Hospital Workers. Since then UPMC has engulfed and devoured most of the major hospitals in the Pittsburgh area, including Western Psychiatric, and planted its huge logo on top of the US Steel Tower.  With 62,000 employees, the UPMC has eclipsed the steel industry as the largest employer.  It is currently spending millions of its subscribers' dollars in a propaganda media war with a competing HMO to become even larger.   Claiming to be a "charity" and not a business, UPMC even has denied it has any employees that could be represented by a union.
Local 1199 merged with the Service Employees International Union, and hospital worker organizing has returned to the Pittsburgh area after a long hiatus (I worked as an SEIU hospital organizer  in the Pittsburgh area in the mid 1970s, where we had only modest success, mostly in the public and nursing home sectors).  The stakes are even higher, now that the typical Pittsburgh worker labors in a medical or educational institution rather than a steel factory.  And those workers need to have the voice of union representation as did the Mon Valley steelworkers two generations ago.  - Paul Garver]
 Hundreds of demonstrators poured into downtown Pittsburgh Monday to protest low wages at the University of Pittsburgh Medical Center, escalating a two-year showdown between labor groups and the area's largest employer.
The Service Employees International Union has been trying to organize service workers at the hospital for at least two years. Joined by steel and mine workers on Monday, pro-union employees of UPMC marched to the hospital's headquarters at the U.S. Steel Tower with some specific demands: a hospital minimum wage of $15, the elimination of employees' health care debts to the hospital and recognition of a union. Continue reading →
Filed under: Health Care, Low wage workers, Organizing, Uncategorized | Tagged: SEIU. UPMC. Pittsburgh, Service Employees International Union | Leave a comment »