by Stan Sorscher
My job depends on trade. I'm 100 percent in favor of trade.
By the same token, we can have good trade policies that raise living standards, or bad trade policies that deindustrialize our economy and distort social and political power relationships.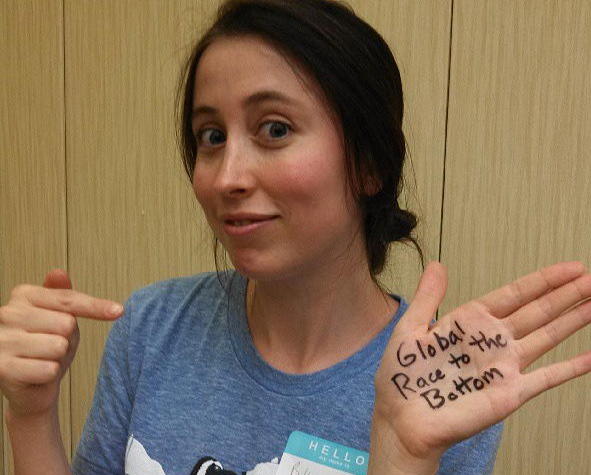 What people hear, when you say "trade deal."
Two cases in point: the "Trans-Pacific Partnership" (TPP) and the "Trans-Atlantic Trade and Investment Partnership" (TTIP). Both are variations on NAFTA, a vigorously oversold agreement with Canada and Mexico.
Journalist William Greider explains the origin and intent of one particularly troubling feature of the NAFTA model. NAFTA's legal process helps global companies enforce certain provisions in the agreement. In full jargon, it is called "investor-state dispute settlement," or ISDS.
We understand how the US Constitution establishes our legal framework. The Constitution and Bill of Rights were specifically written to protect individuals from tyranny, and balance public interests with private interests. Our courts settle legal disputes by applying Constitutional principles.
NAFTA, as a legal framework, creates a parallel structure at the global level. However, NAFTA and similar deals have a very different design goal. They prioritize corporate investor rights, while pushing public interests to the side.
As the cynical catchphrase goes, under NAFTA, governments can do "whatever they want," to protect the environment, labor rights, human rights, public health, prudent financial regulation, and internet freedom (for instance), as long as they pay corporations for any lost profit — including potential profit for activities that have not even occurred, yet!
Continue reading →
Filed under: Economy, Fair Trade | Tagged: Greider, ISDS, TPP, Trade, TTIP | Leave a comment »